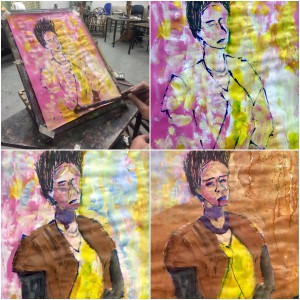 It is like a ritual for most art models who, towards the end of the day posing, spend a brief moment before the start of their evening session, mentally prepare themselves for the session. For me it is like a prayer to our Art Model Gods…Please make this an easy session for me tonight, make the last three hours feel like two! I quickly try to scuff down my cold sandwich. It was my second week when I made my way up the stairs to the studio. I pushed open the door and to my amusement I noticed a man sitting at a small table with his eyes turned towards me. He wore glasses that were perched on an impressive nose. We glared at each other and a small frown appeared on his brow. Simultaneously I closed the door behind me and we greeted each other "Hello…I haven't seen you here before". When one personality meets another for the first time, there is a period of mutual examination on the intuitive level of empathy and identification. But it was impossible for me to relate to John in any way. He was a tall thick-set older man with brown hair growing low on his forehead above his quizzical eyes. His small apron matched his long sleeve shirt, both were the colour of a band-aid. He was incompetent and was the target of devastating criticism. After our brief examination I rushed towards the back of the room to put down my bag, coat and half-eaten sandwich.  A squirrel finds a treat along its journey across Kensington Park Gardens, quickly bites away, then hoards the rest for later…ahhh something to look forward to!  Once the art students finished settling into their spaces, I stood in front of the room ready to pose. The art teacher requested that I take my position in four different ten minute poses before a break, and then the long pose. As I keep still in my pose I started to watch John greedily as he rose from his table and chair; shuffling across the room without adjusting his dark green jogging bottoms which revealed a glimpse of his backside. Is this his moment? To come away from his reality; walking down the bleak concrete stairway of a 1960's council building located in North London, holding a large, heavy black bag full of all of his art materials, escaping from the prosaic day-to-day life with his mother, a recent widow and now regretful of her relinquishment of her only child? John wanted to become a pilot but he never had the courage like his father, his mother reveals down the phone to one of the members of the church choir.
There was no way of hiding that I took a liking towards John. When my body settled into the long pose I started to concentrate on the sounds that filled the room of the students' art instruments battling away onto their drawings. The easels and the drawing boards clash against each other creating a rhythm. The wooden floor boards vibrate underneath the students' feet each time they step back, glancing at their work, checking for any errors. The teacher walks around the studio glancing over at their art work making some suggestions. Then he suddenly walks towards John and points at his drawing. Inevitably it takes John a moment to return from his parallel dimension. "You see, that leg is wrong." John can usually speak normally enough, but he is not quite back from the realm. Although he put his piece of charcoal down, the drawing still continues drafting in his head. John frowns and scratches his head in thought. The teacher suspects John must feel, at times, when he is most fervent and hopeful about his art, that conducting an ordinary observation is like shouting in the middle of a construction site. My eyes widen, eager to see John's reaction…"Really?"
"Yes…you see…" The teacher explains then, without a pause, he slowly walks away like a ghost drifting away in the mist. John pushes back his glasses, picks up his piece of charcoal and continues drawing as if the ghost did not scare him at all.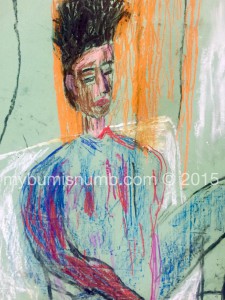 Stay tuned for the next blog entry: "Gin, Cigarettes, Dog Food".