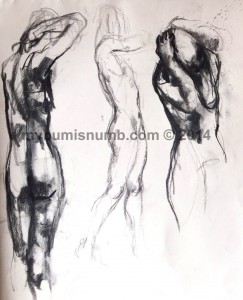 The time has to be up – it feels like five minutes already! My leg starts to shake as I start sweating. Feeling the drips of sweat glide across my back, man, I really am missing those timers. I start thinking back to the time when I was modelling at the art schools in New York. There was always someone with their eye on the clock whilst I was posing – when it was time to move on there was no messing around. Through my experience here in England, people are a little more liberal; we agree timings but I know that oftentimes I'm just going to be waiting until someone realises they want tea and biscuits again!
I knew it would take me a little time to re-acclimatise myself to the idiosyncrasies of life here and at certain times I even questioned my reasoning in coming back here at all. As soon as I started modelling again those concerns began to fade. I was received with open arms and wide smiles by old friends and acquaintances from the art schools of Oxford and London and I tried to harness that positive energy, as well as all that I had learned in my time in New York, to create inspiring poses and a great atmosphere.
But I'm still holding in this pose which was suppose to be five minutes… Is it tea time yet?